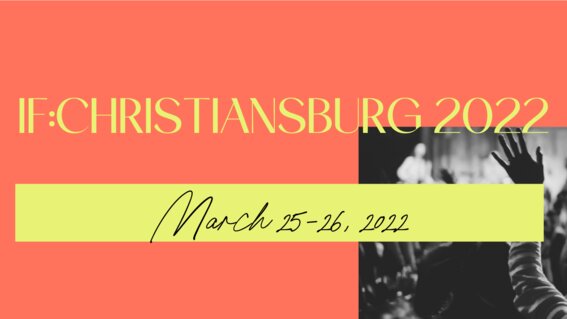 https://www.youtube.com/watch?v=wONvZLs19jg
IF:Christiansburg 2022
At IF:Christiansburg, we're going to talk about how to live in this world right now and how to navigate a life that goes against culture. How do we build community in the middle of that? How do we tell people about Jesus? There's a reason we're still alive. There's a reason we're still here. Our lives matter in this time. And we're not going to waste it. Check out the main IF:Gathering website here!
Event Timing: March 25-26th, 2022
Event Address: 1505 North Franklin Street, Christiansburg, VA 24073
Contact us at (540) 250-3744 or cctrinitycburg@gmail.com
Join the Facebook Group Here!
Scroll down to Register 👇


Friday March 25th, 2022
5:30pm Registration, Welcome, Light Dinner
6:30pm Session 1
7:30pm Break
7:45pm Session 2
8:45pm End of Session 2
Saturday March 26th, 2022
8:45am Welcome, Pastries & Coffee
9:15am Session 3
10:30am Break
10:45am Session 4
12:15pm Lunch Break
1:30pm Breakout Session
2:15pm Break
2:30pm Session 5
5:00pm End of Session 5